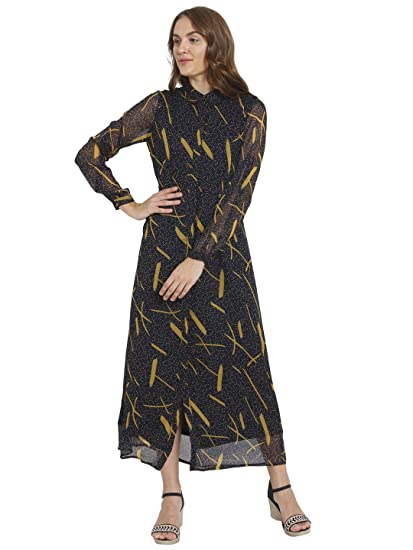 Dresses For Women: Finding The Right One For Your Body Shape
Dresses add a zing and sense of style to women's personalities! But which dress to select is often a question that baffles many women day in and day out. Body shape is one of the most essential aspects to consider when finalizing dresses for yourself.
So, let's look at different body types and pick the right dress from VERO MODA that complements your natural beauty.
Pear Shape
Pear-shaped people have narrow shoulders and broader hips. If you have this body shape, consider dresses emphasizing the upper body to balance your appearance. For instance, A-line or flared dresses are ideal because they constrict at the waist and flare near the hip.
Apple Shape
Your stomach will be the broadest area if your body is apple-shaped. Look for gowns that highlight your legs and upper body while hiding your belly. By highlighting your chest and extending your legs, long dresses, wrap dresses, or A-line dresses with a V-neckline shall produce a pleasing look.
Rectangle Shape
Rectangle-shaped bodies feature shoulders, waists, and hips that are all the same breadth. So, choose outfits with ruching, pleats, or waist belts to accentuate shape and curves. Peplum style, A-line, and shift dresses work well for rectangle forms since they lend volume to your physique.
Hourglass Shape
Hourglass is generally considered the most perfect body shape. People with this type have balanced hips and shoulders and a well-defined waist. Bodycon dresses shall look fabulous! This type of dress will show off your contours and emphasize your curves.
Inverted Triangle Shape
Such body types have shoulders that are wider than your hips. Dresses with wider skirts are a good option as they balance hips with shoulders. On the other hand, off-the-shoulder or boatneck dresses can also lessen the shoulder line.
Tall Shape
Tall people have the advantage of being able to wear a variety of clothing lengths. A maxi dress or midi dress is best to highlight your height. However, keep proportions in mind and avoid overly short dresses.
Petite Shape
If you are short, seek long dresses or gowns with a sense of height. Avoid wearing clothes that are too lengthy or puffy for your figure. Incorporate large prints, such as a floral dress, to create an illusion of height.
Plus Size
Finding the appropriate dress for plus-size women is quite a task. It is better to go with flared choices in this case. A-line, wrap, and empire waist dresses may all create a flattering fit. Above all, don't be afraid to wear bright patterns or colours, as it will make you feel fantastic.
Final Thoughts
Remember that these are only recommendations. Personal style preferences play a big part in finding women's dresses. Finally, everything you wear should make you feel comfortable and confident. Experiment with different styles and patterns from VERO MODA and find the best dress for your body type. After all, it is all about embracing your individuality and complementing your inherent attractiveness.